Train Introduction
Redefining luxury train travel since 2010, Maharajas' Express is the latest and most luxurious train in India. Offering 5 fascinating journeys crisscrossing some of the most vibrant destinations, significant attractions and offering a vista of breathtaking landscape, culture and heritage with which India is blessed; Maharajas' Express offers journeys to the very depth of the soul of India in sheer opulence.
---
History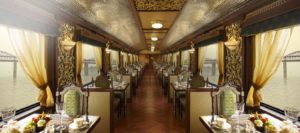 history With the passage of time, all the princes vied with each other to display their ostentatious carriages. Maharaja Gaekwad of Vadodara not content with gifting his son a toy train, went on to install a royal throne in his personal coach. As a matter of fact, the Nizam of Hyderabad's private railway car was covered with thin strips of ivory and had solid gold hardware. As a child, yuvraj or prince Madhav Rao Scindia was fascinated by the railway train. Seeing this, his father the royal Maharaja built a two mile rail track on his palace grounds. One would often see the little prince taking his friends on a joy ride on the palace grounds on his special loco-
---
General Information
A train that never falls short of promising you a royal experience, the Maharajas' Express features five carriages for Deluxe Cabins, six for Junior Suites, two for Suites and one for a grand Presidential Suite. Every cabin has large panoramic windows – a design marvel,just so, that you can savour every bit of magnificent India. All passenger Cabins come with individual temperature controls, the first of its kind in India. LCD televisions, DVD players, direct dial telephone and internet, to name a few. In-house movies and live television also keep you entertained through the royal journey. Just a small reminder for those who are used to a different power supply, the Maharajas' Express is equipped with 110/230V sockets. Every cabin also has its own electronic safe deposit box.